Engage B2B Awards: The 2022 winners and their MarTech success stories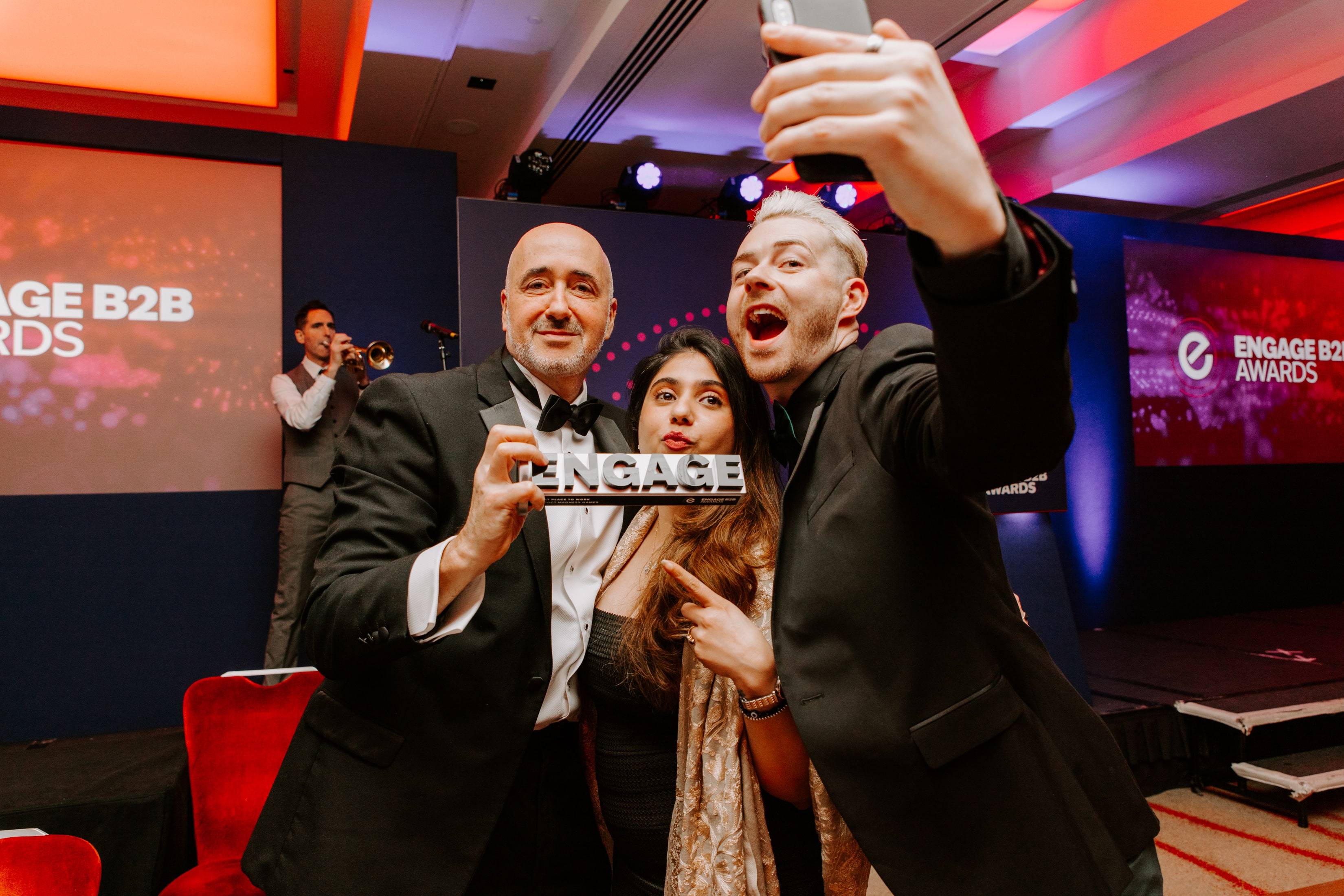 The first edition of the Engage B2B Awards took place on December 8th at the Victoria Park Plaza in London. The glamorous ceremony was held in the evening after our Sales and Marketing Engagement Summits. As such, the Awards celebrated the efforts and achievements of companies in these two fields.
The 2022 ceremony attracted over 200 guests, who came together to celebrate the award winners and finalists. Before the awards were presented, guests had the chance to enjoy a three-course meal and an entertaining performance by the comedian Dom Joly.
After this, the moment everyone had been waiting for finally arrived as the voice-over artist Roger Tilling announced the winners of the 11 awards categories. Of these 11, 8 celebrated exemplary accomplishments in marketing. (Read about the sales categories and their winners here.)
WHO ARE THE WINNERS, AND WHAT ARE THEIR SUCCESS STORIES?
1. Best Example of Marketing Engagement: LTE Group
The integrated education and skills group LTE Group earned the Best Example of Marketing Engagement award for its '£500k in 100 Days' campaign. Executed by Total People, LTE Group's provider of apprenticeships and work-based learning, the campaign solved two distinct problems and targeted two completely different audiences.
More specifically, Total People launched '£500k in 100 Days' with the aim of encouraging large UK employers to 'gift' their unused apprenticeship levy funding. At the same time, the campaign aimed to recruit SMEs to use the 'gifted' funds to train their employees and tackle skills shortages.
LTE Group achieved and exceeded its initial targets, with '£500k in 100 Days' rapidly growing to become '£1M in 200 Days'.
2. Rebrand/Relaunch Campaign of the Year: Neurodiversity Celebration Week(in partnership with Lexxic Ltd)
Neurodiversity Celebration Week (NCW) and the specialist psychological consultancy Lexxic Ltd received the Rebrand/Relaunch Campaign of the Year after partnering to raise NCW's profile. Prior to the partnership, NCW was run by its founder Siena Castellon since its establishment in 2018.
For four years, Siena managed to single-handedly grow the campaign to 2,000 schools, 1.2 million students, 60 universities and 300 workplaces.
In December 2021, NCW partnered with Lexxic Ltd to create a new insight-driven brand campaign. As part of this, Lexxic worked with Siena and introduced a new CRM system, created a new website, and raised NCW's profile to reach a global audience. Now, the campaign has reached 2,648 schools, 229 universities, 2.65 million students, 165 charities, and 1,277 organisations.
3. Best Use of Voice of The Customer: Tata Communications
The telecommunications company, Tata Communications, was presented with an award in this category for developing a robust Voice of the Customer (VoC) framework. Under this framework, the company uses numerous surveys to collect feedback, after which it analyses it across different segments and industry verticals. Following this, it receives insights on actions to take to improve each of the segments.
Breaking down its strategy, Tata Communications revealed that the foundation of its VoC framework lies in its 'Listen, Identify, and Measure' process. Put differently, the company listens to its customers, identifies their priorities to improve its services, and then measures customer satisfaction.
4. Best Use of Marketing Technology & Marketing Team of the Year: The Happiness Index
In September 2019, The Happiness Index had no marketing strategy. Last month, it won not one but two awards for its new marketing team and their success.
Combining various long-term and short-term strategies, The Happiness Index created an impressive marketing and sales tech stack encompassing customer relationship management (CRM), social media, outbound emails, lead scoring and more. As a result, The Happiness Index was able to create and deliver a plethora of creative content, including bi-monthly events, free eBooks, email newsletters, and a community platform.
In addition, The Happiness Index received recognition for how it dealt with the outbreak of Covid; that is, it created a Happiness and Humans community to provide content and data on how prioritising employee engagement and happiness can boost productivity and profits.
5. Best Brand Experience: Boots/VMLY&R
Boots and VMLY&R won the Best Brand Experience award for their most personalised Christmas campaign. Launched in 2021, this campaign sought to counter the effects of Covid and achieve 6 targets:
To rebuild salience during the holiday season
To attract new customers
To bring lapsed customers back
To encourage people to purchase their gifts from Boots
To add more things to customers' baskets
To inspire them to buy products on multiple occasions during the holidays
To achieve these, Boots and VMLY&R created and executed an impressive campaign, deploying technology to leverage first-party data and personalise messaging. Moreover, Boots partnered with Sky to create a Shoppable TV ad that allowed customers to 'shop the ad' using a QR code.
6. Great Place to Work: Product Madness
The mobile game studio Product Madness won the Great Place to Work award for its People and Culture department and unique office space. The People and Culture department comprises three teams: Studio Experience, People and Culture, and Talent Acquisition. Each of the three teams focuses on a specific employee experience and engagement area to make the company a great place to work.
The second reason why Product Madness received this award is its workspace. Located in London, the office was created with employee wellbeing in mind. Therefore, it features a massage room, sleep pods, a barista café, a games room, a yoga space, and an auditorium.
7. Best Use of Data & Customer Insight in Marketing: Southern Co-op/Edit
Wanting to embrace the digital transformation and become more customer centric, Southern Co-op approached the data and tech consultancy Edit. Together, they invested in marketing automation software, a customer data platform, CRM, and data analysis.
Furthermore, Edit helped Southern Co-op enhance its existing All Yours marketing email programme to generate maximum value. In addition to this, it created a dynamic dashboard, allowing Southern Co-op to access live data visualisations. Thanks to this dashboard, Southern Co-op can view its engagement groups based on various demographics and optimise campaigns.
Considering that the Engage B2B Awards received over 150 entries, we at Engage Business Media would like to extend our congratulations to the award winners once more!
Those interested in entering the 2023 awards can do so from January 23rd until July 17th.