Vladimer Botsvadze: "In a crowded holiday market, authenticity stands out"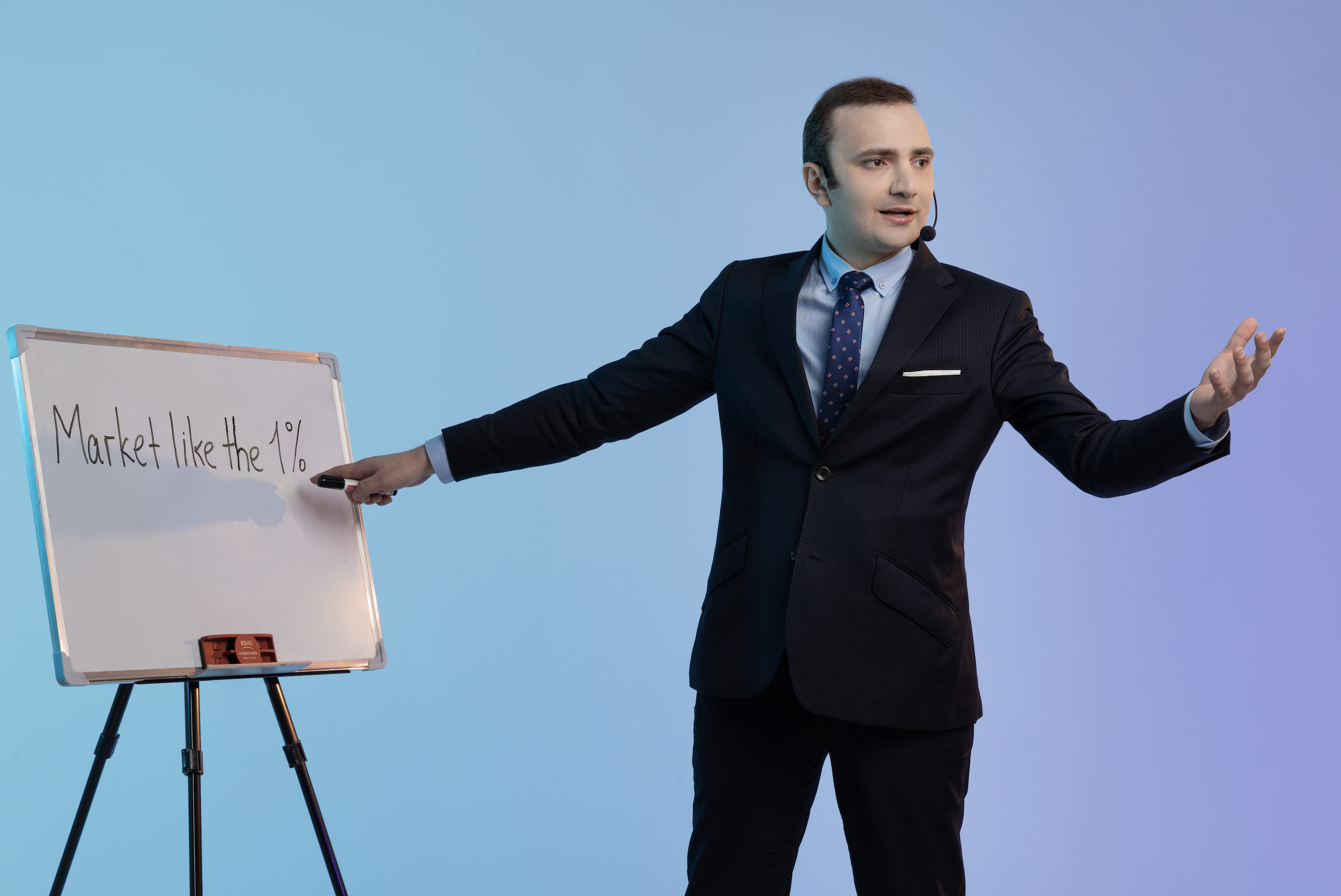 An interview with the No 1 Global Marketing Thought Leader
With the holiday season rapidly approaching, we reached out to the Fortune 500 consultant and Advisory Board Member of the US Artificial Intelligence Institute, Vladimer Botsvadze to hear his advice on attracting and retaining customers in Q4 and beyond. In the interview below, Vladimer revealed the most common mistakes marketing leaders tend to make and how they can be avoided. Moreover, he shared his predictions for the future of the industry and how we can prepare for it.
HI VLADIMER, PLEASE INTRODUCE YOURSELF.
Hi, I'm honoured to introduce myself as a seasoned professional with over 15 years of international experience in guiding executives and top brands across the globe through transformative journeys. My mission has always been to initiate change, drive growth, and position brands as market leaders in their industries. I have had the privilege of wearing many hats in the business world, earning recognition as a top digital transformation and marketing influencer, keynote speaker, professor, futurist, and thought leader. I have also served as a trusted advisor to startups.
I have enjoyed a remarkable career at the top of the technology industry. I'm deeply honoured to have been ranked as the №1 Global Marketing Thought Leader by Thinkers360. Additionally, my role as an Advisory Board Member at the United States Artificial Intelligence Institute, the United States Data Science Institute, and the United States Cybersecurity Institute reflects my commitment to staying at the cutting edge of innovation.
I have been featured in prominent publications such as Forbes, Bloomberg, Business Insider, MarketWatch, and Yahoo Finance. I have also had the privilege of judging the Gartner Marketing and Communications Awards, mentoring at the UCLA Anderson School of Management and Techstars Founder Catalyst Program, and speaking at renowned events like the Global Marketing Summit.
What truly drives me is helping brands, both established and startups, navigate the digital landscape of tomorrow. I'm fortunate to serve as an associate member of the International Academy of Digital Arts and Sciences.
WHAT DO YOU VIEW AS THE KEY CHALLENGES MARKETERS ARE FACING IN 2023?
In 2023, marketers are facing several key challenges that stem from the prevailing focus on short-term ROI, transactional approaches, and the relative neglect of storytelling and content creation. These challenges can have a significant impact on the overall effectiveness of marketing strategies and long-term brand success. Here's a breakdown of these challenges:
Short-term ROI Obsession: One of the foremost challenges in 2023 is the undue emphasis on short-term return on investment (ROI). Marketers are often pressured to deliver immediate results, which can lead to an overemphasis on quick wins and a reluctance to invest in longer-term brand-building strategies. This narrow focus can hinder brand sustainability and growth in the long run.
Transactional Approaches: Marketers are increasingly adopting transactional, one-off approaches to drive sales and conversions. These tactics can neglect the importance of building lasting relationships with customers. Customer loyalty and retention may suffer as a result, making it difficult to maintain consistent revenue streams over time.
Storytelling and Content Creation: Many marketers are neglecting the art of storytelling and content creation. In an era where consumers are seeking authentic, engaging, and informative content, a lack of focus on storytelling can hinder a brand's ability to connect with its audience on a deeper level. Effective storytelling helps create emotional connections, fosters trust and sets a brand apart in a crowded marketplace.
To address these challenges, marketers need to strike a balance between short-term and long-term strategies, focusing on both immediate results and sustainable growth.
WITH THE HOLIDAY SEASON RAPIDLY APPROACHING, WHAT ADVICE WOULD YOU GIVE TO BRANDS SEEKING TO BOOST THEIR PERFORMANCE IN Q4?
As we approach the holiday season, I'd like to offer some advice to brands looking to enhance their performance in Q4. This time of the year presents a unique opportunity to connect with consumers and boost sales. One key piece of advice is to focus on creating a meaningful emotional connection with your audience.
In a crowded holiday market, authenticity stands out. Share compelling and genuine stories about your brand's values, mission, and the people behind it. These stories resonate with consumers, creating an emotional bond and a sense of belonging.
Personalisation is crucial during the holidays. Tailor your marketing messages and offers to individual preferences and behaviours. Consumers appreciate feeling understood and valued, which can strengthen their emotional connection to your brand.
Go beyond transactional interactions and focus on creating memorable experiences for your customers. Whether it's through special events, limited-edition products, or exclusive access, these experiences can foster positive emotions and loyalty.
Express your gratitude to your customers for their support throughout the year. This can be done through personalised thank-you messages, exclusive discounts, or even holiday-themed giveaways. Acknowledging their loyalty enhances the emotional connection.
AS A FORTUNE 500 CONSULTANT, WHAT ARE SOME COMMON MISTAKES YOU HAVE SEEN MARKETING LEADERS MAKE? HOW CAN THOSE BE AVOIDED?
In a rapidly changing business environment, it's vital for marketing leaders to position their brand with the agility and innovation of a startup. This means being open to experimentation, quick adaptation, and a willingness to take calculated risks. Embracing startup-like qualities can keep a brand competitive and relevant.
Storytelling is at the heart of effective marketing and brands should focus on telling compelling and authentic stories that resonate with their target audience. A strong narrative creates an emotional connection and sets the brand apart in a crowded market.
Traditional advertising methods may not be as effective as they once were, as consumers are becoming increasingly sceptical of ads. Marketing leaders should shift their focus away from advertising and invest more in content marketing, influencer partnerships, and other strategies that involve authentic engagement.
The key is to humanise the brand, recognise the importance of building emotional connections, and actively engage with consumers in a two-way conversation.
FINALLY, WHAT DO YOU PREDICT FOR THE FUTURE OF MARKETING AND HOW CAN WE PREPARE FOR IT?
The future of marketing is expected to be exciting and challenging, influenced by the ever-evolving technological landscape and changing consumer behaviours.
Content marketing will remain a cornerstone of successful marketing strategies. Brands that consistently create high-quality, valuable content will continue to engage and educate their audience. Video content, interactive experiences, and personalised content will become even more important in capturing consumers' attention.
Building robust, authentic relationships with consumers will be decisive. Marketers should focus on understanding the needs, preferences, and pain points of their target audience. Personalisation and customer-centric approaches will be key to staying relevant and competitive.
Social media will shift from being primarily a broadcasting platform to a listening platform. Marketers should actively monitor social media channels to gather insights, identify trends, and engage in meaningful conversations with their audience. This proactive listening will help brands address issues and respond swiftly to consumer feedback.
In the age of AI and automation, personal branding will become a powerful tool for marketers. Establishing a strong personal brand can help professionals stand out, build trust, and connect with their audience on a deeper level. Personal brands can be especially effective in thought leadership and influencer marketing.
To prepare for the future of marketing, it's essential to stay agile, adapt to emerging technologies, and remain attentive to the changing needs and behaviours of your target audience. Brands and marketers that create valuable content, get closer to their consumers, listen actively on social media, embrace AI, and build personal brands will be well-positioned to thrive in the dynamic landscape in the years to come.
Want to learn from other industry leaders? Read all Engage MarTech interviews here.