Alex Hall: "Platforms Can Often Do Much of What You Need if You Take the Time to Learn"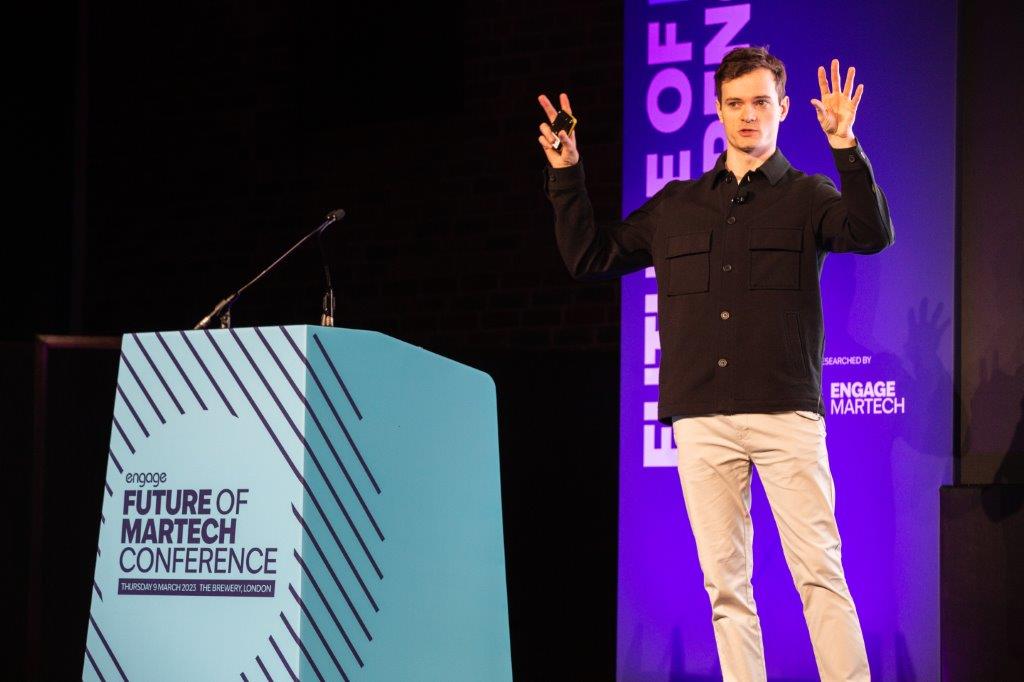 An interview with the Sales and Marketing Operations Manager at The Happiness Index.
Earlier this month, we held our 2023 Future of MarTech Conference at The Brewery in London. This conference debated what the future of marketing looks like, and how organisations can best use technology to their advantage.
The audience had the opportunity to hear from Alex Hall, Sales and Marketing Operations Manager at the 2022 Engage B2B Awards winner, The Happiness Index. In his session, Alex revealed how the company won the 'Best Use of Marketing Technology' award and what others could learn from their success.
Now, he has spoken to EBM to delve deeper into the topics he discussed and to share what he believes are the key trends shaping the future of the industry.
PLEASE INTRODUCE YOURSELF AND YOUR ROLE.
I'm Alex Hall and I'm the Sales & Marketing Operations Manager at The Happiness Index. My role is to effectively manage all things marketing and sales technology to grow the business through improved efficiency, strategy and the synergy between sales and marketing!
WHAT WERE THE MAIN REASONS FOR SHARING YOUR STORY AT OUR CONFERENCE?
We felt it was an interesting story to tell about how an organisation with limited resources can make the most of technology through thoughtful and strategic planning and proving that a lot can be achieved through an unrelenting desire to continually improve.
WHAT ARE THE BIGGEST TAKEAWAYS THAT OUR COMMUNITY CAN LEARN FROM YOUR STORY?
I referenced 10 top tips in my presentation but the key 3 for me are:
Timing – take the time to properly understand the capabilities of what you already have before going to market to add to your tech stack. Platforms can often do much of what you need if you take the time to learn. Also, be patient when making changes before expecting results as, in our industry, it takes time for results to be reflected in any tweaks you make.
Create a culture of psychological safety – allow employees to take risks without the fear of failure. Trust in why you hired your team and give them the autonomy to think up new ideas to solve problems.
Adopt a linear marketing strategy that doesn't purely focus on delivering new MQLS. Adapting your messaging to prospects, MQLS, converted leads and even customers is crucial and use as much automation to do that as you can.


ARE THERE ANY PROJECTS THAT YOU'RE CURRENTLY WORKING ON THAT YOU'RE EXCITED ABOUT?
Leveraging all of these amazing new developments in AI to build more intelligent workflow automations without any significant cost increases. We're all about freeing up as much time as possible for tasks that technology can't (yet) do for us, like cold calling!
LOOKING TO THE FUTURE, WHAT WOULD YOU SAY ARE THE KEY TRENDS SHAPING THE INDUSTRY?
Aside from AI, which is an obvious one to mention, I'm faced with the reality that most potential customers are moving away from a world where they feel like they should be 'actively' sold to in the traditional channels of phone calls or even direct emails. Prospects are preferring to discover solutions to their obstacles on their own in the first instance and that means creating a rich ecosystem of fantastic value-driven content that clearly demonstrates benefits that they can see. That's why creating great stories around the importance of happiness in our lives has been such a successful strategy for creating conversations that then spark interest in what we do.
If you found this interview interesting and want to learn more about the topics discussed at the conference, continue to watch this space! Over the coming weeks, we will be publishing multiple interviews, podcasts, and articles featuring the event's speakers.