Ali Lowry: "Using Generative AI Is an Absolute Game-Changer for Marketeers"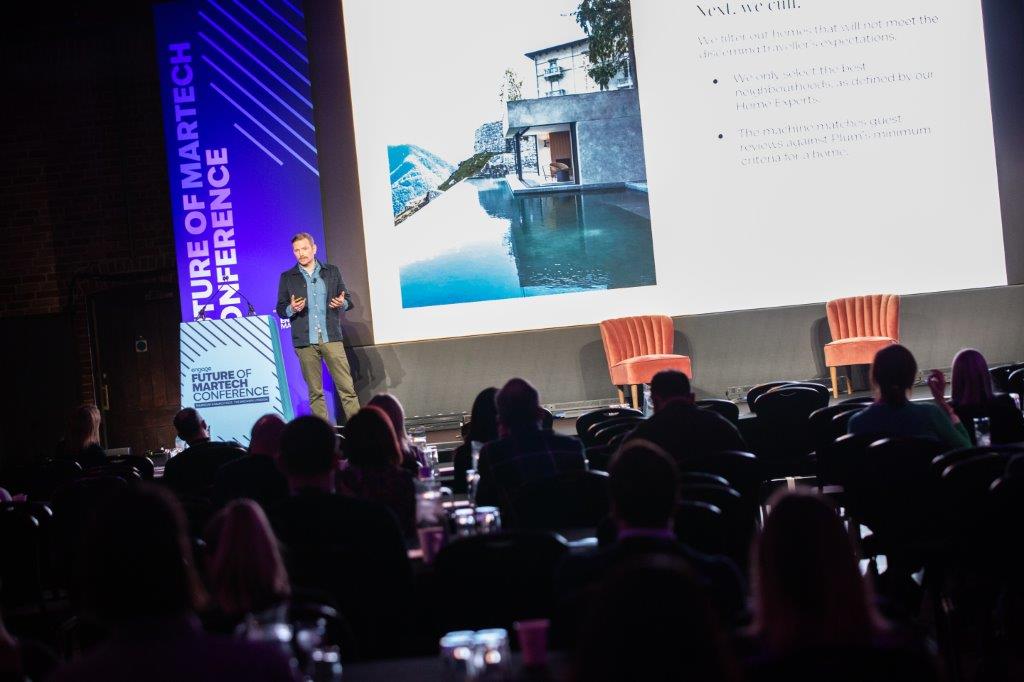 An interview with Plum Guide's Chief Brand Officer
Ali Lowry, Chief Brand Officer of the vacation rentals booking platform Plum Guide, spoke at our 2023 Future of MarTech Conference last week. Ali presented the audience with an interesting case study, revealing how the company uses generative AI. In an interview with EBM, Ali discussed his presentation in-depth and shared what he believes the future of MarTech looks like.
PLEASE INTRODUCE YOURSELF AND YOUR ROLE.
Hello. I am Chief Brand Officer at Plum Guide, where I have been for just over a year.
Plum Guide is a booking platform that cuts the cr*p in holiday rentals. Through a combination of AI and human vetting, we inspect every rental home and select only the very best. Think of the Plum seal of approval as like the Michelin Guide of holiday rentals. We eradicate disappointment and save you from rental fails!
WHAT WERE THE MAIN REASONS FOR SHARING YOUR STORY AT OUR CONFERENCE?
We have, over the last year, built a reputation for bold and really quite punchy Plum Guide marketing campaigns - reminding people that life is short and there really is 'no time for average stays'. They have really helped build brand awareness and land our point of difference. From telling people how many holidays left (I'm 40 and so have about 40 left according to the national averages - sh*t!), to sending out some grim reapers on the central London January commute.
However, we have done very little to tell our tech story. It's really quite impressive and we have built an incredible AI machine, maximising the very best of human intelligence and intelligent automation. So, I was really grateful to be given the platform to tell that story, and how we have leveraged tech to open up innovative marketing and partnership opportunities.
WHAT ARE THE BIGGEST TAKEAWAYS THAT OUR COMMUNITY CAN LEARN FROM YOUR STORY?
Judging by the photos of my talk, how to be way too animated with my hand gestures and facial expressions!
We have taught the AI 'machine' what makes a Plum home. It has learnt to deliver quality and curation at speed - eliminating bad homes and identifying what remarkable looks like in seconds. As a result, we have at our disposal a highly sophisticated data warehouse of the world's best rental homes, which has been cleaned, sorted and scored - it's data that can effectively guarantee a good stay.
The opportunities for marketing are huge, as we have access to every piece of data about the home, its strengths and weaknesses, the estimated revenue and scores against each of the criteria for our Plum standards. As a result, we can reimagine CRM, search and field the most impactful insight to our acquisition team. From the design aesthetic to the location, we can target homes to the most receptive audience. That really is just the tip of the iceberg.
ARE THERE ANY PROJECTS THAT YOU'RE CURRENTLY WORKING ON THAT YOU'RE EXCITED ABOUT?
We have been doing a lot more work around sentiment analysis, which is really exciting. Using natural language processing AI, we have collated the consistencies with guest feedback on a home, using that insight to add to our experts' home truths. These are the things we think you should know before you book a home to help manage expectations and the best possible guest stay. If the road outside an apartment is noisy, we will tell you that.
Next up though is exploring some of the potential partnerships, leveraging our data and model(s). For example, we could build a portfolio of homes to match the needs of a partner, as the model can successfully integrate new criteria. We also know what design types are the most commercially viable. A developer's dream? Location mapping also enables us to show where the best homes are located. Ultimately, we also now have a ready-made (and adaptable) home inspector and even I could be out of a job, as our photo-grading AI is now a curation expert.
LOOKING TO THE FUTURE, WHAT WOULD YOU SAY ARE THE KEY TRENDS SHAPING THE INDUSTRY?
There is a reason ChatGPT is headline news. Using generative AI is an absolute game-changer for so many people, but particularly marketeers. It's as exciting as it is terrifying!
We have been using it to suggest names for our expert-vetted homes. Using the #OpenAI API, we trained a 'fine tuning model' to generate names of Plum Guide homes based on an input of 10,000+ of our existing listings.
The output was highly efficient, and for the most part, created a home name that was apt, Plum-worthy and complimented the listing. Some were questionable however and were (quite rightly) rejected by our home experts - fancy staying at 'Garbage Can Dreams'? A night at 'Just The Tip'? Or what about a weekend at 'The Horn Of Your Lover'?
Some may suggest we had some pretty spicy names to begin with, to explain the output, but it goes to show there is nothing better than intelligent automation when it is combined with human intelligence – a Plum Guide USP.
If you found this interview interesting and want to learn more about the topics discussed at our Future of MarTech, continue to watch this space! Over the coming weeks, we will be publishing multiple interviews, podcasts, and articles featuring the event's speakers.