Costa Coffee sales down as high street footfall falls whilst online shopping booms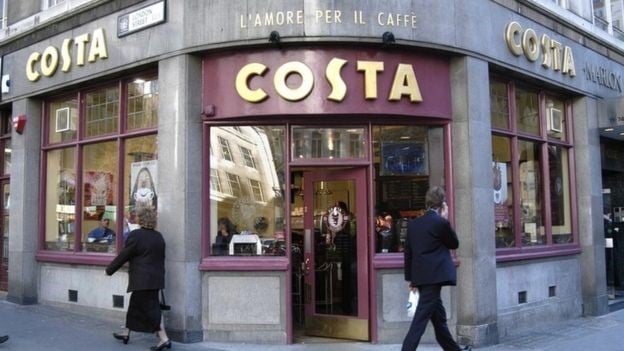 Costa Coffee has reported a fall in sales at its cafes as a result of fewer people visiting UK High Streets. Like-for-like sales, which strip recently opened stores, fell 0.1%, in the three months to 30 November.
Costa's owner Whitbread also warned that sales were expected to be "subdued in the near term".
Like-for-like sales for the whole Whitbread group, including the Premier Inn hotel chain, rose by 0.3% compared with the same period last year.
Whitbread blamed weak sales growth at Costa on falling numbers of people visiting UK High Streets. Like-for-like sales in its 1,357 wholly-owned cafes fell by 1.5% in the quarter.
However, Costa's total UK sales jumped by 7.2% because it opened new cafes and outlets in airports and railway stations did better.
The number of people visiting High Streets fell by 1.6% in the three months to the end of November compared with the same period in 2016, according to retail analysis company Springboard.
Diane Wehrle, Springboard marketing director, said High Streets were suffering because consumers were cutting back in the face of rising inflation and an increase in interest rates.
"In addition, there was increased competition for hospitality spend due to new entrants in the market, which spread consumer spend across a great number of outlets," she said.
That was making it harder for cafes and restaurants to attract customers into their outlets, she added.
'Lower footfall'
Neil Wilson, senior market analyst at ETX Capital said it was the "same old story at Whitbread as Costa's slowing like-for-like sales growth in the first half turned into a decline in the third quarter".
He said at present, it did not appear that Costa's more profitable coffee products and the newly-launched Cold Brew and Frostino lines were helping to improve sales and margins.
The company said it was pursuing a "strategy to increase our presence in high footfall and convenient locations such as drive-thru and travel locations".
It also said it was "particularly pleased" with the performance of Costa Express, its expanding network of self-service machines, of which it has more than 8,000 worldwide.
Whitbread also owns Premier Inn, which saw like for like sales growth of 0.5%. Total sales rose by 5.5%. The group's share price is up by 2%, following the release of the update.
Fiona Cincotta, senior market analyst at City Index, said the rally in the share price was "probably less to do with their performance and more to do with the renewed calls to spin off Costa from the other businesses".