Rolls-Royce motor cars renews UK commitment after sales jump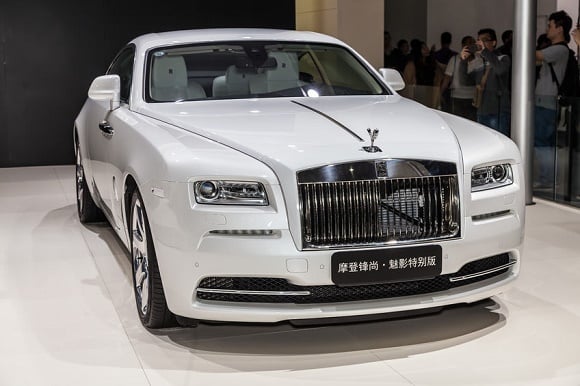 Rolls-Royce Motor Cars has renewed its commitment to Britain after a double-digit jump in UK revenues helped the German-owned company notch up its second highest sales record in over a century.
The Essex-based company – which is owned by auto giant BMW – sold 4,011 cars in 2016, up 6% from a year earlier, thanks to record demand in countries including the US, Japan, UK and Germany.
It comes despite difficulties in the Middle East, where Rolls-Royce said demand for all luxury goods was dampened by economic and political uncertainties.
Rolls-Royce Motor Cars saw a 26% sales spike in its UK home market, while sales in the US jumped 10%, China rose 23% and Japan soared 51%.
Chief executive Torsten Muller-Otvos said the figures prove there is still appetite for Britain's luxury brands, and promised the company would not be giving up its UK roots.
"This remarkable result emphatically affirms the global appeal of the very finest British luxury goods to the world's most discerning patrons."
He added: "We are deeply committed to a long term, sustainable, successful growth strategy and this result, amidst a backdrop of global uncertainty, affirms this approach. 2016 has proven the perfect year to sign off the successful first chapter of the renaissance of Rolls-Royce
"Success for Rolls-Royce is success for Great Britain and we reaffirm our commitment to maintaining the home of Rolls-Royce in the UK."
The Brexit vote has raised questions as to whether foreign-owned companies will maintain manufacturing hubs in the UK, especially if the Government opts to leave the EU's single market, resulting in higher tariffs for exported goods including luxury vehicles.
Mr Muller-Otvos's comments follow reports that the chief executive wrote to workers in March, warning them that an exit from the European Union would drive up costs and prices and could affect the company's "employment base".
However, Rolls-Royce says it is planning to extend its 30,000 square metre Technology and Logistics Centre in Bognor Regis – close to its manufacturing hub in Goodwood, West Essex – in 2017 by nearly 10,000 square metres "to meet growing demand and in readiness for future models".
Higher demand also pushed Rolls-Royce to create another 100 new jobs in Goodwood last year. The company now employs 1,700 people, a near 500% increase on its 350-strong team in 2003.
Mr Muller-Otvos said: "Our business model, which is rooted in our unique and detailed understanding of the multifaceted world of luxury, is producing growth at just the right pace for a truly rare and exclusive brand. This is what our customers demand of us and this is what we will continue to deliver."