Key Door Drop Trends Marketers Must Know in 2023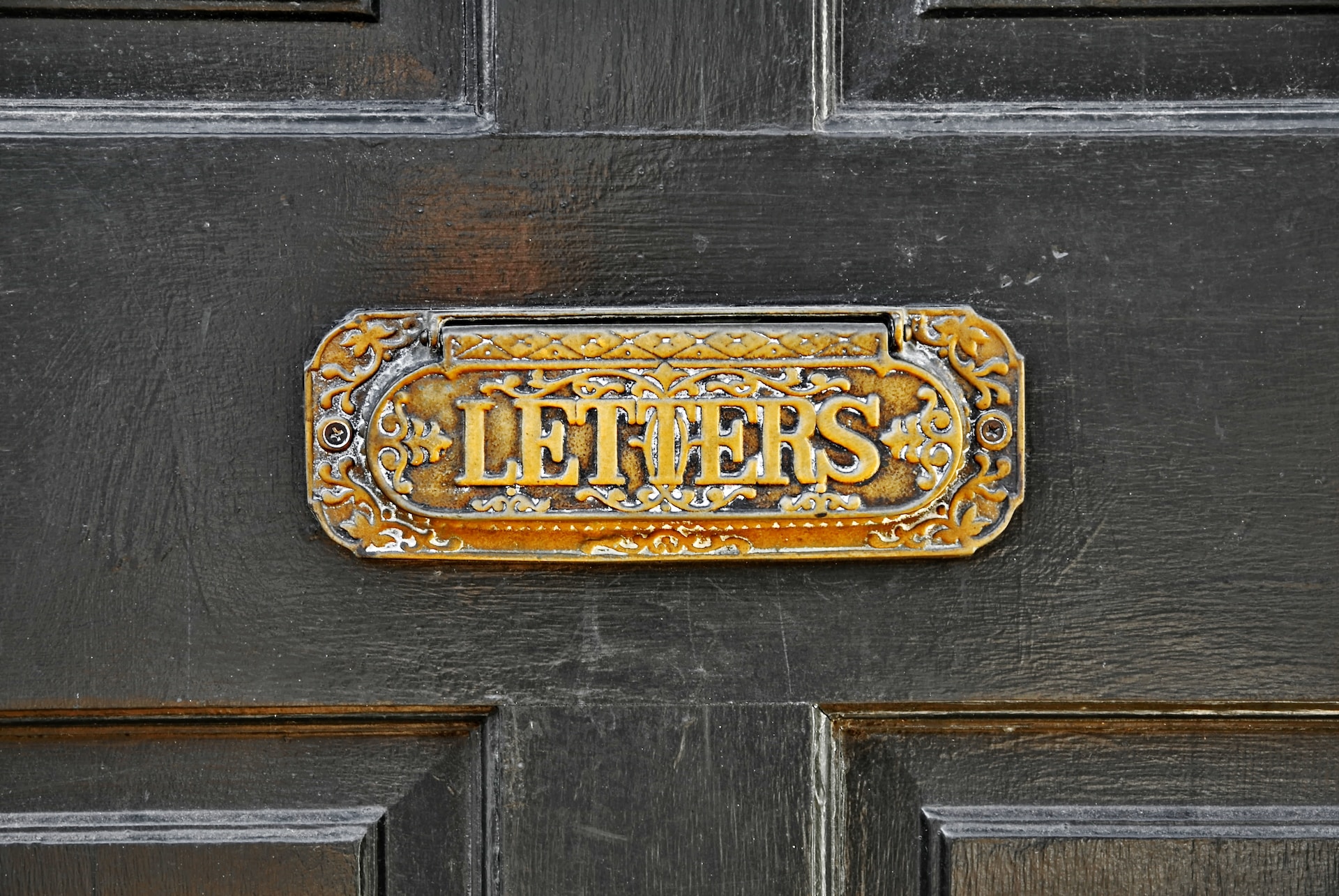 Ian Gibbs, Director of Insight at the DMA, discusses why the Door Drop channel continues to perform strongly despite a challenging climate which is impacting marketing spend
A challenging environment for the economy invariably means a challenging environment for marketing spend. Yet, despite a largely unpredictable year for businesses, the UK Door Drop industry continues to offer stability.
Not only has the Door Drop channel had to deal with these cyclical market factors, such as rising inflation and cost-of-living, but at the same time, it has also undergone the structural challenges of a continued shift of budgets towards digital channels.
There are several important trends which have emerged over recent years which highlight where the opportunities lie within this tactile channel, as stated in our recently published Door Drop Report 2023 by the Data & Marketing Association (DMA UK) and JICMAIL*.
DOOR DROP SPEND REMAINS STABLE
2022 was a year of two halves for Door Drops and the wider advertising industry. After a positive start in the first quarter, where it was performing at a three-year high, the ongoing challenges of high inflation, rising cost of living, and multi-sector strike action are likely to have had noteworthy impacts on the use of Door Drops.
Despite this, volumes and spending value were virtually flat year-on-year, and mainly hampered by unprecedented issues such as paper availability and rising production costs following the energy crisis. Annual expenditure on Door Drops has remained virtually flat year-on-year, reaching a level of £181.2m (vs £182.3m in 2021). Door Drop volumes also held up relatively well at a level of 3.53 billion (vs 3.54 billion in 2021).
GRABBING CONSUMERS' ATTENTION
A key thing to note is that Door Drops as a channel in 2022 was not just resilient – it continues to display improved levels of efficiency and effectiveness. As of Q4 2022, the average Door Drop was shared with 1.05 people per household (a metric referred to as Item Reach), reflecting an additional 5% audience reach on top of campaign volumes. In addition, the average person in the UK interacts with each Door Drop 3.1 times a month.

As the chart above displays, the average time spent reading a Door Drop by consumers across 28 days is 46 seconds. And this equates to £0.07 per minute of attention: the best result, matched only by Out of Home.
In an era when human interaction with brands can no longer be assumed, and ad avoidance is pervasive, the ability of the Door Drop channel to demonstrate that the channel holds consumer attention – alongside the effectiveness and efficiency metrics outlined earlier is invaluable.
RISING ENGAGEMENT WITH DEMOGRAPHICS
Younger audiences continue to present additional targeting opportunities for advertisers in the mail channel.
While all age groups measured have seen their Door Drop engagement increase since 2018, the under 35 category has overtaken the other two age cohorts and – despite those aged 55+ narrowing the gap during 2022 – they remain the most engaged age group overall.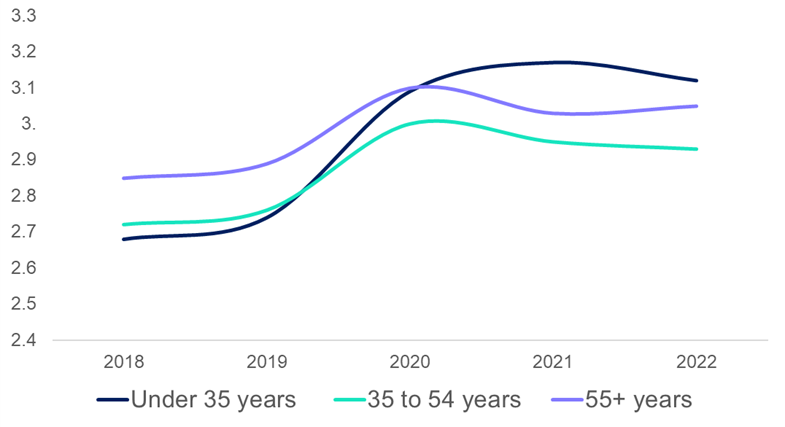 The growing use of the Door Drop channel among multiple, diverse sectors is indicative of it offering flexibility and effectiveness – even in an era dominated by digital advertising.
The chart below provides a perspective on the key advertiser sectors responsible for Door Drop volumes. Roughly the same number of sectors have seen volumes increase this year compared to last year, with some larger sectors experiencing modest double-digit growth (e.g., supermarkets were around +10%) and others with smaller increases, but plenty of opportunity to grow volumes (such as local and national tradespersons).
The days of major Door Drop-using brands distributing hundreds of millions of them every year may be gone, but the client base using the medium is now much bigger and more widespread. The supermarket, retail, tradesperson, and charity sectors have particularly sustained volumes.
At a time when performance marketing is struggling to prove its effectiveness in the face of muted consumer demand – as evidenced by the 60% decline in response effectiveness noted over the past three years in the DMA's CMO Effectiveness Toolkit – advertisers are placing a lot of confidence in Door Drops as one of the key channels to help buck this trend.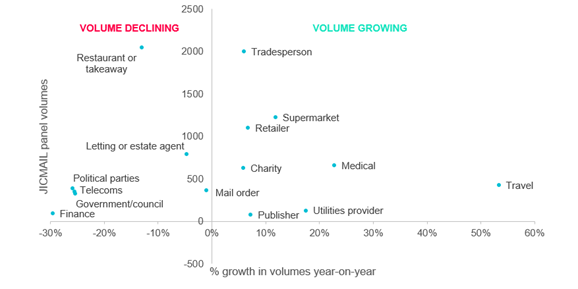 ROOM FOR OPTIMISM
It is encouraging to see the channel continuing to perform strongly. With issues around paper prices, industrial action, and instability in government behind us, we are increasingly hopeful of seeing more businesses and their marketers taking advantage of Door Drop performance this year.
The scale and unpredictable nature of global events in recent years has shown us that predictions are difficult, but if projections for inflation to fall into 2024 are accurate, then 2023 may bring a reverse of what we have seen, with volume and spend growing once again.
Notes to editors
*The DMA's partnership with JICMAIL has merged the trade body's industry data with the industry-standard audience measurement, resulting in a greater understanding into contributing factors behind annual volumes and spends.