Meet the Judge: Caroline O'Keeffe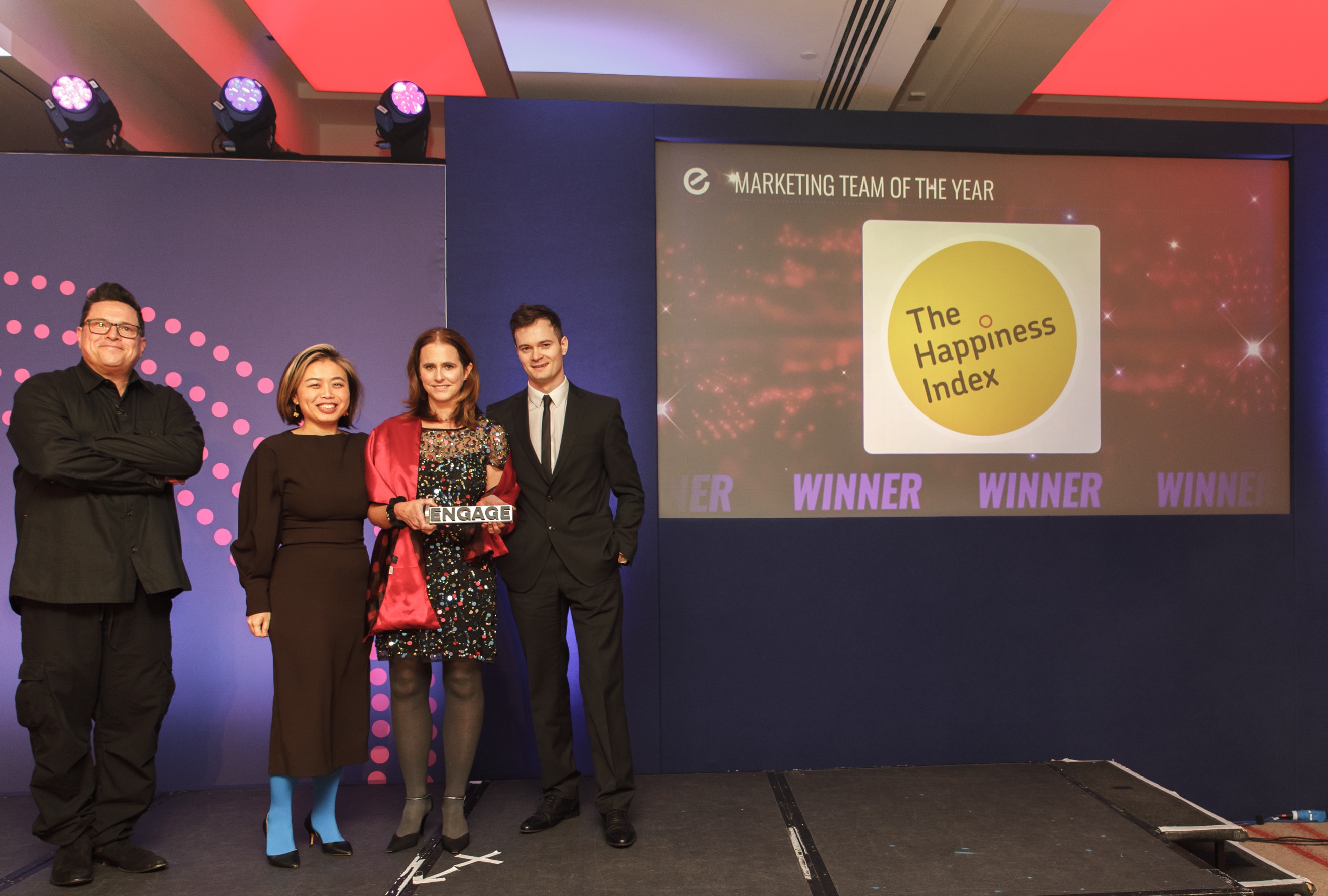 In December 2022, Caroline O'Keeffe and her team at The Happiness Index walked across the ballroom of the Victoria Park Plaza to collect not one but two Engage B2B Awards: Marketing Team of the Year and Best Use of Marketing Technology. In an interview following the ceremony, Caroline told us: "When I entered the awards, I had no idea that we'd make the shortlist, let alone win both awards."
Now, she has achieved yet another impressive feat, becoming one of the industry experts who will be assessing the 2023 Engage B2B Awards submissions. As part of our Meet the Judge campaign, we have spoken to Caroline, asking her what she believes is her greatest professional achievement and what she will be looking for in this year's entries. In addition to this, she has shared her tips on writing an awards entry that stands out from the competition.
PLEASE INTRODUCE YOURSELF AND YOUR ROLE.
I'm lucky to lead the Marketing Team of the Year 2022 at The Happiness Index, a global employee engagement and happiness platform. After starting my career in HR, I found my way into marketing in 2000 and have never looked back. Since then, I've worked with 8 different high-growth scale-ups in the HR Tech sector.
WHAT WOULD YOU SAY HAS BEEN YOUR GREATEST PROFESSIONAL ACHIEVEMENT? WHAT HAVE YOU LEARNED FROM IT?
That's a hard question! I'm proudest of the work I've done at The Happiness Index and the incredible team that I've built there. When I started, there was no marketing strategy. We've been able to create one that's transformed our brand and business performance whilst picking up major investment and two Engage B2B awards along the way. I've learnt to remain agile and expect the unexpected but always centre my strategy around really strong fundamentals – brand, content and process. Also, it's imperative to have a really talented and diverse team around you and to work hand in glove with sales.
AS AN ENGAGE B2B AWARDS JUDGE, WHAT DO YOU THINK MAKES AN AWARDS ENTRY STAND OUT?
I'm looking for inspiring stories of organisations who can evidence the success of their strategy all the way through their customer journey. Give us a clear narrative and show us how you delivered.
WHAT TIPS WOULD YOU GIVE TO THOSE WHO WISH TO ENTER THE 2023 ENGAGE B2B AWARDS?
The word count is tight so be really clear on the story you want to tell and make sure you have clear evidence to demonstrate the success of how this has translated into revenue. Oh, and always proofread it.
To enter the 2023 Engage B2B Awards, make sure you submit your entry here by July 17th.
Judging will commence on July 24th, the finalists will be revealed on September 18th, and the winners will be awarded at the annual Engage B2B Awards Ceremony on December 6th.